2018 is already well underway, and off to a great start. But we'd be remiss if we didn't take a look back at the year that just ended. 2017 was a tremendous year for Wood, Gutmann & Bogart. We experienced positive growth, welcomed new members to our team, provided phenomenal service to our clients, and gave back to our community. Let's take a moment to reflect on some of WGB's brightest moments in 2017.
Building Our Team
The secret to our 30 plus years of success in the insurance business is people, and 2017 was a banner year for our WBG team. We welcomed 21 new people to the team last year, rounding out WGB's staff to over 100 dedicated, high performing insurance professionals.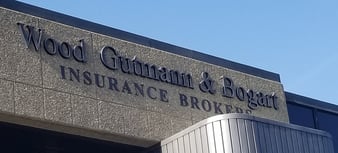 Recognizing the clear link between physical fitness and workplace performance we continued in 2017 offering all employees membership at a top notch local fitness center. Also, each month fitness trainers come to WGB's office and provide classes on nutrition and exercise to our team as well.
WGB also continued to build upon our team-centric organizational culture over the past year. We worked hard to foster an environment where our employees can be as productive as possible. We encouraged our team members to be comfortable at work, so they can focus on clients and solve complex problems; casual Friday is every day at WGB!
And speaking of Fridays, every employee enjoyed a flex schedule -- one Friday off each month with pay last year – the equivalent of an additional two weeks paid vacation, and we will continue with a flex schedule in 2018. We were proud to merit Insurance Journal's Silver Award for Best Agency to Work for last year; we will strive for the Gold Award in 2018!
The results of our dedication to employees and our culture are clear: our team is better positioned than ever to shield our clients from risk, and empower their success. Our team has ownership of WGBs mission, and are more excited than ever to engage clients, and help them protect their business, families and livelihoods.
Supporting our Clients
Throughout 2017, WGB expanded our ability to provide unmatched support to clients who depend on our expertise. As one WGB team member noted recently, our firm now has a broad range of specialists on staff "to help our clients with their business needs: An OHSA Outreach Instructor, Certified First Aid and CPR Instructor, Medicare Specialist to work with our benefits clients, [and a] HACCP certified broker, to name a few services."
I was proud to see our team's hard work and dedication pay off. In addition to the trust and relationships we built with our clients last year, we were also noted as one of the fastest-growing private companies by the Orange County Business Journal, and were ranked as one of the top 100 Independent Property/Casualty Agencies by Insurance Journal as well.
Serving our Community
WGB has been part of the Orange County community for over three decades. Orange County is our home, and our success depends upon our friends' and neighbors here and throughout Southern California. And we were proud of our service and commitment to this great community throughout 2017.
Our Green Team, which WGB established to heighten awareness about resource conservation, consumption reduction, purchasing choices and other practical, environmentally sustainable workplace practices at WGB, definitely made its mark in 2017. Green Team members and their families volunteered their time last September to clean up Irvine Regional Park on National cleanup day. They also helped to keep Huntington Beach clean throughout the past year.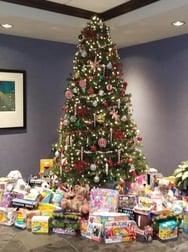 Several other initiatives by WGB and its employees also helped to support great causes and institutions in Orange County last year. In 2017, the WGB staff held a holiday toy drive in support of the Fred Jordan Mission. We ultimately donated 182 toys and 15 gift cards in support of that great cause. Additionally, thanks to the initiative of one dedicated team member, WGB staff donated over $1,000 in gift cards for parents with their infants in the Neonatal Unit at Children's Hospital of Orange County. I am proud of the positive impact our WGB team has had on this community, and I cannot tell you how humbled I am to work alongside such dedicated, caring people every single day.
Closing Thoughts
2017 was a great year for WGB. We expanded our workforce and invested in our people, provided tremendous support to our clients, and gave back to our community. We also built a foundation to be an even better, more capable organization in the days and weeks ahead. So here's to a healthy, prosperous 2018!