Meet one of our passionate team members, Mara Denny, Customer Service Representative, and why she seems to have a few hot sauce bottles in the employee kitchen and sometimes at her desk.
What is your role at WGB? Customer Service Representative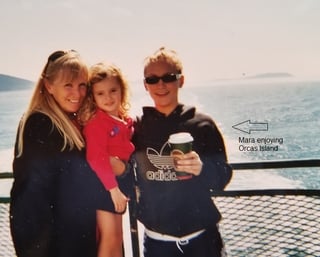 What three traits define you? Adventurous, Independent, Optimistic
What can you not live without? My friends and family, hot sauce, and Mexican food is pretty important.
What is your favorite thing to do? Explore, leave town, and watch movies with my girls.
Where is the best place you've travel to and why? Orcas Island in Washington – Stayed in an amazing cabin, went mountain bike riding, fishing for crab, they had an awesome Farmers Market – everything was beautiful.
Did you have a job in high school or college, what was it? I started working at Fidelity National Title as a Title Assistant when I was 19, shortly after I moved to Orange County.
If you could try a different job, what would it be? Something more emotionally fulfilling – working with special needs kids or something along those lines.
What is the best book you have ever read? I honestly haven't read many books, I am currently reading "Imagine Heaven", it's helping move forward with the loss of people close to me.
Did you ever think your career would be in insurance? What was your career path that lead you to work in insurance? I never thought I would be where I am in life now in every respect. I have come a lot further than I ever imagined.
What are three words that describe WGB? Compassionate, Challenging, Dedicated
What advice do you have for prospective WGB candidates? Take advantage of the benefits and opportunities that are offered, and communicate your feelings.
What do you like most about WGB?
I appreciate the opportunity for growth, I enjoy the people, the wheel spins, the lunches….and the quarterly office happy hours.