Wood Gutmann & Bogart Insurance Brokers is proud to announce that Lupe Erwin, Executive Vice President of our Private Client Services division has been nominated by the Orange County Business Journal as one of the Top Businesswomen in Orange County. The 2019 Women in Business Awards program allows for the recognition of five exceptional businesswomen in Orange County. Five awards will be presented at the 2019 Women in Business Awards Luncheon & Program on May 8, 2019 at the Hotel Irvine.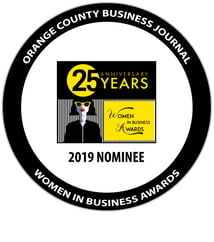 Lupe's role at WGB began over 17 years ago, when she and Lisa Doherty founded the Private Client practice – a national thought leader in insurance solutions and risk management for successful individuals and families. Lupe is responsible for bringing key COI relationships to the firm and was the first woman to break the Million dollar revenue stream in the firms history.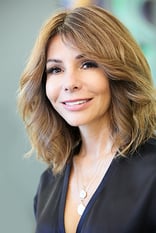 Lupe successfully completed the Certified Advisor of Personal Insurance (CAPI) designation through the Wharton School of Business. For two years, she wrote a series of insurance and risk mitigation related articles published in Worth Magazine, a national publication that caters to the most successful families in the United States and their advisors. She has chaired and co-chaired several Women's Wealth retreats for The Paul Merage School of Business at UCI; and, for over 11 years served on the Advisory board of the Center for Investment and Wealth management at The Merage School at UCI.
Lupe is an active participant in Private Risk Management Association (PRMA) summits and programs. She is a mentor for the Orange County Chapter of the National Association of Woman Business Owners (NAWBO) where she is able to share her journey and knowledge with women entrepreneurs and professionals.
Lupe's industry and community involvement includes:
Currently serving on the Board of Directors for Orangewood Foundation – 5 years
Currently serving on the Board of Directors for Foster All; an organization that seeks to place foster children with loving families through the faith based communities in Los Angeles, Orange and Riverside Counties – 5 years
Currently Board of Directors Rising Leaders Council at Segerstrom Center for the Arts – 4 years
Chairman of the board 44 Women for Children – 2 years
Chair for Arts and Business Leadership Awards Dinner 2019 for The Segerstrom Center for the Performing Arts
Board of Directors 44 Women for Children; an auxiliary of Orangewood Foundation serving to provide scholarships and support to emancipated foster youth – 6 years
Served as Chair and Co-Chair of the Samueli Academy Tea; to raise funds to support Samueli Academy, a cutting edge charter school in Santa Ana with a focus on accommodating Foster Children as a priority – 3 years
Orange County United Way Women's Philanthropy Fund Member
Please join us in congratulating Lupe on her nomination as Top Businesswomen in Orange County!