This month's employee spotlight is Lupe Erwin, from our personal lines group. We think she could be a finalist for having one of the most unusual jobs while in school. Read more about Lupe and the unusual job.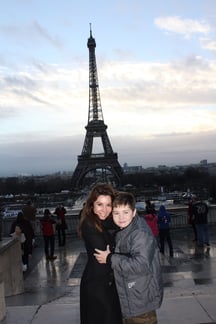 What is your role at WGB? EVP, Private Client Producer
What three traits define you? Driven, Decisive, Goofy
What can you not live without? The patience and support of my family, my co-workers and the Keurig in personal lines department.
What is your favorite thing to do? Explore. It could be a big city, a country house, an arboretum, a famous museum or a cool new restaurant. I enjoy and get energized by new experiences.
Where is the best place you've travel to and why? Hands down it is London. My last visit was with my family about two years ago at Christmas. Hyde Park had a winter wonderland with ice skating, an ice maze, food stalls, and ice curling! Christmas in London is magical, but the city has a great energy all year long with museums, the culture, music, gastro pubs and the accents!
Did you have a job in high school or college, what was it? I was a horse hot walker and also worked retail at the mall.

Tell us something about you that might surprise us? I dreamed of being a race horse jockey. I spent time as a teenager working at Santa Anita Park as a horse hot walker, but I was the only girl working with the horses other than one of the veterinarians. We were so used to seeing male jockeys that the scarcity of women almost seemed normal. But it actually was (and still is) bizarre.

What is the best book you have ever read? To date, a translated vintage book called "A Moment in Peking" by Lin Yutang. It's a historical fiction and is fascinating.
Did you ever think your career would be in insurance? What was your career path that lead you to work in insurance? I have yet to meet an insurance colleague that set out to be in insurance. I took a summer job at an Allstate office when I was 20 and from there it took on a life of its own.
What are three words that describe WGB? Meritocracy, Respected, and Expertise
What advice do you have for prospective WGB candidates? Recognize interdependencies, collaborate, and always appreciate our history with Don and Jim; and embrace the future with Kevin and Scott.
What do you like most about WGB? There is so much at WGB that makes employees love and be proud to be here. Ultimately, I feel it is the culture of transparency, respect, continuous development that holds up higher than the rest. Employees feel that they are being heard, they are part of the bigger picture and it motivates us all. That Keurig is pretty awesome too.