Starting this year we wanted to share a little about some of our team members with a monthly employee spotlight. So to kickoff -- meet Debbie Rogister! Unfortunately, she will be leaving the WGB family in the next month or two to start some new adventures in retirement. As you can see in the photo, she has travel plans in her future. So, before she leaves we wanted to ask her a few questions to learn a little more about her.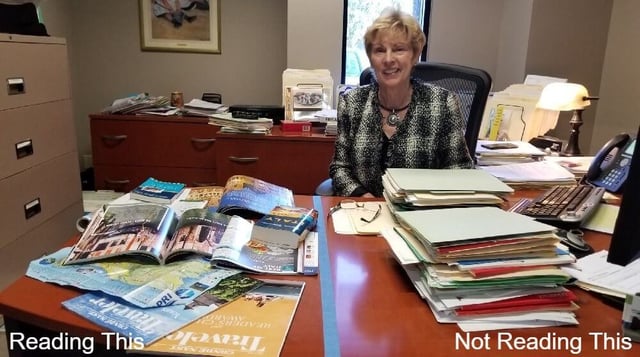 What is your role at WGB? Chief Operating Officer
What three traits define you? Dedicated, trustworthy, and respectful.
What can you not live without? Game of Thrones
What is your favorite thing to do? Cooking, gardening and hiking.
Where is the best place you've travel to and why? OR What is your dream vacation? Dream vacation would be spending a month traveling through Italy sightseeing and dining.
Did you have a job in high school, what was it? Typesetter for local newspaper.
If you could do a job for one day, what would it be? I'd be a fashion designer in Paris, France.
What is the best book you have ever read? I haven't read it yet – one of our founding partners, Don Wood, recommended some books for me and I'm going to start with some books by Ayn Rand.
Did you ever think your career would be in insurance? What was your career path that lead you to work in insurance? No. My Sister-in-law got me a job at Aetna Casualty & Surety (way back when) as a transcriber for work comp claims. Once you get in the insurance business you can't get out.
What are three words that describe WGB? Reputable, committed, and professional.
What advice do you have for prospective WGB candidates or applicants? Take initiative and responsibility; be accountable, and have professional demeanor. WGB is a great place to work, develop and continue your career.
What do you like most about WGB? The people (strong staff that work cohesively as a team) and the partner's dedication to the staff, and a good working environment.